Ski Season Passes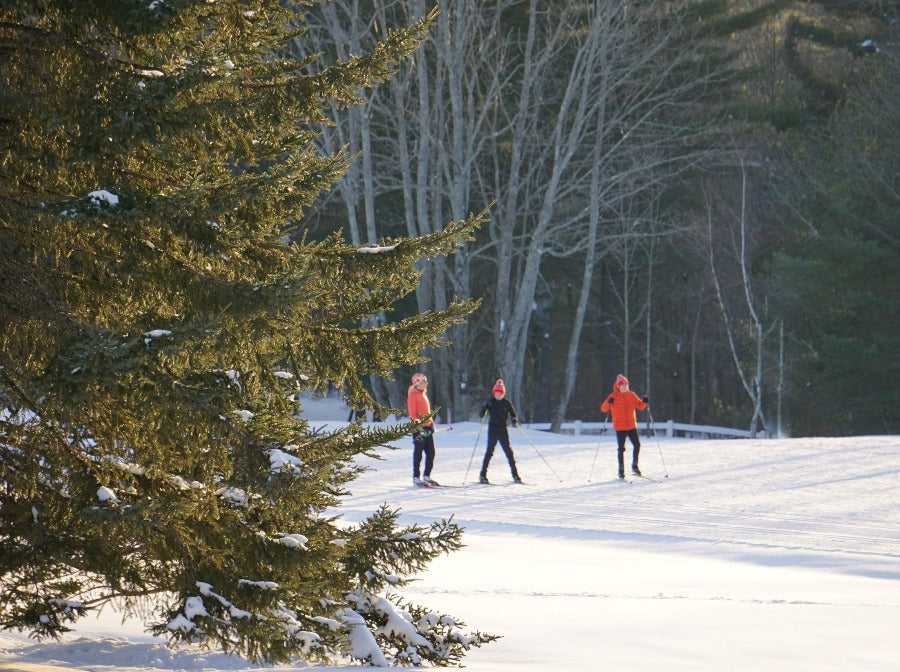 TRAIL SYSTEM STATS
Total Kilometers: 30 km 100% groomed daily for both classic and skate
Trails: (34% Novice, 45% Intermediate, 21% Expert)
Total Acreage: 5,000 Acres
Season Length: Mid-November to Mid-March
Amenities: Ski Lodge, Skating rink, dining and take out on site, warming cabins and fire pits along the trail system, rentals for most activities offered.
Located just 30 minutes away from Portland, Lewiston and Brunswick, Pineland Farms is the premier destination for Nordic Skiing in Southern Maine. Purchase your season pass and skip the lines this Winter! Pick up your pass at the Outdoor Center before the season starts.
With a Nordic season pass at Pineland Farms, you can avoid the lines and enjoy the ski and snowshoe trails all season during normal hours of operation. The more you use it, the better the value!
Photo Credit: Brian Allenby (photo contest submission)
WARNING
Under Maine law, a skier assumes the risk of any injury to person or property resulting from any of the inherent dangers and risks of skiing and may not recover from any ski area operator for any injury resulting from any of the inherent dangers and risks of skiing, including, but not limited to: existing and changing weather conditions; existing and changing snow conditions, such as ice, hardpack, powder, packed powder, corn, crust and slush and cut-up, granular and machine-made snow; surface or subsurface conditions, such as dirt, grass, bare spots, rocks, stumps, trees, forest growth or other natural objects and collisions with such natural objects; lift towers, lights, signs, posts, fences, mazes or enclosures, hydrants, water or air pipes, snowmaking and snow-grooming equipment, marked or lit trail maintenance vehicles and snowmobiles, and other man-made structures or objects; variations in steepness or terrain, whether natural or as a result of slope design, snowmaking or grooming operations, including, but not limited to, freestyle terrain, jumps, roads and catwalks or other terrain modifications; the presence of and collisions with other skiers; and the failure of skiers to ski safely, in control or within their own abilities. 32 M.R.S. § 15217(3) . 
<!— split —>
Season Pass Benefits:
Access to Nordic Ski Trails 2023/2024 Season.
Access to Snowshoe Trails 2023/2024 Season.
10% off retail & food purchases at the Market and Outdoor Center.
(2) Free ski day passes for friends & family.
10% off ski rentals.
Receive 50% off the purchase of a DAY trail pass at our partner Nordic centers:
Bethel Village Trails; Bethel, ME

Carter's XC Ski Center; Bethel, ME
Fort Kent Outdoor Center; Fort Kent, ME
Nordic Heritage Outdoor Center; Presque Isle, ME
Quarry Road Trails; Waterville, ME
Rangeley Lakes Trail Center; Rangeley, ME

Titcomb Mountain Nordic Trails; Farmington, ME
Terms & Conditions:
Closures apply for events & weather cancellations – – check our trail conditions for daily updates.
10% off at the Outdoor Center does not apply to passes and activities.
Must have pass in hand to receive your benefits.
Family pass is for immediate family members only.
Season Passes are non-refundable & non-transferable.
All Season Pass Holders are required to sign a waiver. Click the link below to sign now or be prepared to sign upon pass pickup at the Outdoor Center.
Contact: outdoor@pinelandfarms.org or 207.688.6599